Keywords: pipelines tubes conducts internal coating ageing longitudinal radial spiral welds smart pig hydraulic roughness structuration economics
Ageing of pipe internal coatings
This chapter deals with aerodynamic aspects in the transport of gas by pipelines and their economic impacts. It does not deal with the mechanical aspects concerning the pipelines.It provides some information on the ageing of internal pipe coatings, in particular, the incidence of certain chemical agents on these coatings, in order to assess possible consequences in the transport of gas.
Weld impact on pressure losses
It draws attention to the impact of internal welds in the transport of gas. This impact is presented in the case of junction welds connecting pipe sections to each other (also called radial welds) as well as in the case of spiral welds required for the manufacturing of longer tubes with less pressure and lower cost. As will be shown, the impact of the weld type on pressure losses is considerably higher in the case of the second type compared to the first type.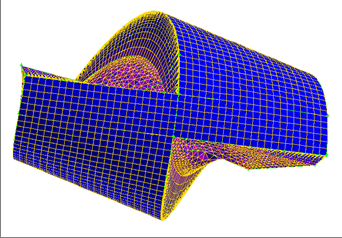 Structured surfaces for flow drag reduction
One section relates to the production of structured surfaces within pipe tubes during the internal coating process. One manufacturing method is presented by means of flexible moulds provided on their outside with structured surfaces in the form of a mirror image of the one that is required to produce on the tube internals.
Smart pig for internal aerodynamic roughness measurement
It presents an internal pipe monitoring device (monitoring pig) allowing the measurement of several hydraulic pipe parameters including internal roughness, temperature and pressure over the entire length of the pipeline. Concerning the principle of the roughness measurement, this device is inspired by the functioning of the Rotating Cylinder Unit presented in chapter 1 and used for the measurement of the equivalent roughness (hydraulic) of the internal coating of a pipe section.
Economics
The economic study is based on several internal pipeline configurations, pipelines provided with and without internal coatings and also internal coatings provided with structured surfaces.